Super OPE Member
GoldMember
Local time

4:01 PM
User ID

26310
Joined

Mar 13, 2023
Messages

529
Reaction score

1,302
Location

I forget who said on here that the 026 was a gateway drug... Anyway, my best buddy Andrew, (who's 038 accidentally became a magnum), told my neighbor Eric I'd look at his saw. It's an old ('88?) 10mm 044. It had an Intermittent hard/no start issue and he wanted a general going over/cleaning. Eric told me how he wound up with the saw and how much he loved it. The tank vent was missing something but in my lack of knowledge I didn't know what. Neither did either of the dealers I use. Anyway, I removed the water from the tank, put a fresh filter on it, and voila... It fired and ran well, everytime.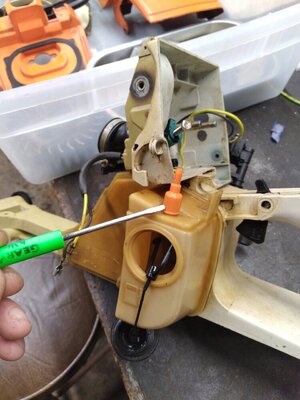 Before asking around here, I temporarily rigged up a cap with a slit to reduce the amount of fuel leakage.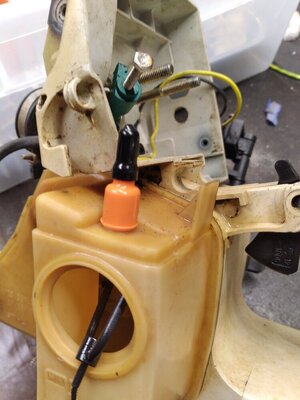 Eric came to get the saw and we talked for hours about saws and how he'd love to have a longer bar on this this thing so he could, as bbrs says, stand up and buck. I explained that more power would make a longer bar possible. In that conversation I showed him threads on here and told him about my adventures with my 026 and how welcoming and supportive, if not at times comically ball busting and patient the fellers on here are. I said I could attempt to port his saw and make it rip a little harder and he wanted that. So, I dug in. As usual,
@drf256
,
@Mastermind
, answered questions and I've had wonderful coaching along the way. As busy as all of you guys are, it continues to amaze me how willing you all are to break off time, and share your experiences. In ways, I have moments where I feel I have no right to be cracking into these vintage Stihl's. I'm working on an anemic budget with limited tools. And worse, no experience. As you all basically give me the answers to the test, I can also see how there's a but of a Mr Miagy approach to your teaching, helping this dense mind of mine slowly process the relationships of each ports timing in the big picture of the cycle. So, thank you. Thank all you badass fellers on here. Lemme try and get this thread caught up to where I am. Bear with.