mountain dew and ibuprofen please
Local time

7:32 AM
User ID

2591
Joined

Feb 6, 2017
Messages

1,797
Reaction score

8,370
Location

This is basically a copy paste of a Craig's list post of mine. Figured id toss it up here as well.
The add sums it up pretty well. Someone should be able to double their money on them on a quick strip on ebay parts. But I don't ebay anymore and have the end of season burnout.
Cl post ..........
I'm in a clearing house mood. These are motors I've been collecting and taking on trade. I pulled them out of storage to go through and sell in the spring. But my wife and I just had our sixth child. So if someone was interested in the whole lot I would sell them cheap in one shot. There are four lowers on engines and a few that are off. Five tiller kits. Plus a plile of micc parts. The lowers bring $500 each individually, the tillers bring $75 w/o electric start, $125 with. And all the other micc stuff. Now MOST not all the engines run and have good powerheads, but I am sure they all will need some going over before they are 100% good to go.
$4500 buys the whole lot. There are four short shaft housings in the group. Those and the lower units are worth more than my price. Part them or flip. Either way should bring a good buck. I just think I'd rather be a dad this winter and slack off a bit.
Now back to the ope guys.......
If anyone is interested and I don't already have your number...... Please call me first. I have a bad habit of not reading texts from unknowns.
My cell 815-275-316nine
Steven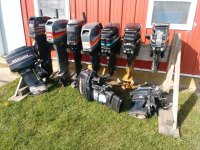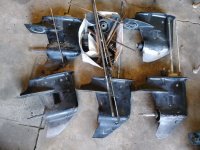 Last edited: