Local time

10:28 PM
User ID

26954
Joined

Jun 16, 2023
Messages

6
Reaction score

5
Location

Hello all,
I just joined, nice to see so much information here. I'm mostly a Stihl chainsaw/trimmer/kombi guy, but a buddy dropped off his Stihl BR450 blower for me to take a look at. When you pulled the recoil, there was a weird clicking sound. I did all of the obvious stuff before doing a complete teardown, and found that 2 of the 3 lower bearings were shot. Also some piston damage and tiny bits of metal in the crank pan.
Bad fuel or straight gas.....but he swears he only uses premix.
I'm not sure if the needle cage bearing (conn rod to crankshaft) can be replaced. Does anyone have a service manual for this? I have a 420 manual, and it says that the crank has to be completely replaced if the bearing is bad.
I checked with the local dealer; new engine is $552 CAD. YIKES!!
Cheers!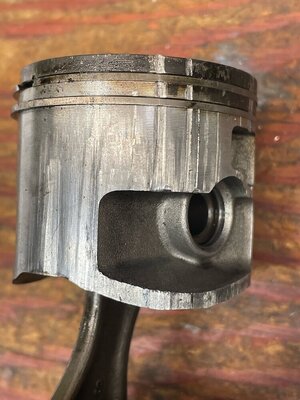 Last edited: