Local time

10:55 PM
User ID

913
Joined

Feb 19, 2016
Messages

523
Reaction score

2,641
Location

Cleaning out the garage. These parts are leftovers from my Dolmar collection that I no longer have.
Feel free to ask questions or make offers. Trying to sell as lots. If they don't sell that way soon, I'll split them up so check back.
PayPal as friends/family or cash on local pickup. Prices are plus shipping. Shipping will be best guesstimate based on where it's going.
Misc:
DOLMAR original bar cover SOLD
Dolmar 3410 clutch drum. 1/4" pitch spur. Looks like new takeoff. Very slight sign of use. $15
5100s Parts
-$80 obo for the lot- SOLD
1. NOS oem muffler. It was taken out of the bag for picture, never used.
2. USED oem muffler bracket
3. NEW oem nylon air filter
4. NEW oem base gasket
5. USED oem single felling spike
6. USED oem clutch drum. Bearing looks good, splines look good.
7900 Parts
-SOLD-
1. OEM lightly used 52mm cylinder and new oem windowed piston/rings kit. Cylinder looks like new, piston is new. Comes with blue decomp valve and air shutter. *This is a side decomp 52mm original 7900 jug, not a top decomp 7910 jug*
2. OEM 7900 Muffler. Brand new, never used. Older style.
3. OEM blue a/v spring set with travel limiter. These are used but from a very low hour saw.
4. OEM 6400 style large spikes. New, never installed.
5. ZAMA RB-101 carb kit for original 7900 carb
6. OEM "7900" recoil label. New, never used.
7. OEM red tank/handle upper cover. New, never used.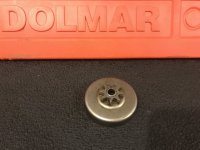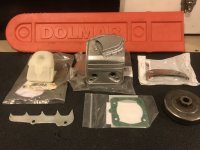 Last edited: