Supporter of Cat Eating Komatsu Machinery
GoldMember
Local time

10:03 PM
User ID

8928
Joined

Mar 7, 2019
Messages

3,709
Reaction score

18,642
Location

Very strong Mike Gilbert modified MS361. This saw has only had 1 tank of fuel burnt through it since I got it back about 18 mos. ago. I planned on some gtg's but work always takes precedence. Anyhow This saw performs like a 70cc. I had a 24" Cannon on it and this 59cc pulled with authority.
New OEM: pto brg, wrist pin brg/clips, 2-piston rings, gasket kit, elasto start handle/rope, air box and impulse line, 3/4 Wrap kit with clutch cover and dogs.
Aftermarket: NSK Fly brg., mesh winter filter.
MODS: Port and squish work. Flywheel timing is stock.
Muffler mod and dual ports added.
044 Carburetor w/kit, choke mod., and a good used 044 intake boot with new clamp.
It will come with a used 20" Stihl bar that is 3/8" .050" that has been dressed. The chain has been sharpened. Hate to let this one go but got some wintertime needs. Yinz guys may think I'm crazy but this isn't even break even pricing. It will be shipped and insured to your door and would like a signature confirmation. $880 total. Reasonable offer may be considered. The Cannon Light I bought off a well known guy on here. It's my keeper for now unless you want to dig deeper. Thx. timg
BTW, The top cover tang pin is missing. That's the pic with the flashlight. The cover is stable and secure.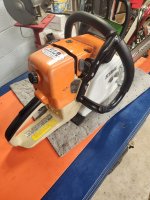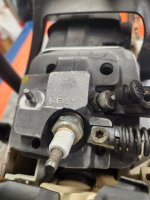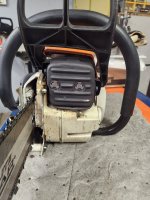 Last edited: