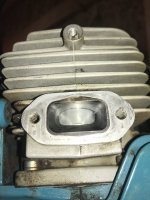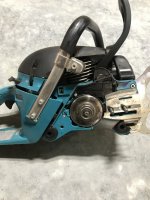 This was always my backup saw. Never really had to use it much unless I was in a pinch, literally. Previous rental but is in pretty good shape. Red coil. Can't remember if they all were or not?
Does everything it's suppose to. I see it's missing the flywheel side bolt for the brake flag. Threads are fine, not sure what happened there. When I got it a couple years ago I gutted the cat. Tried my hand at crimping/brazing it back together and added a port. Wish I had a muffler done right to go with it. I missed a spot when crimping it and it melted a little plastic. Pics to show.
Not burning wood this year and need to free up some cash for home improvements. $325 obo + shipping
No wood at the house to get video.